May 28th - June 9th, St George Town and Hamilton
Bermuda is a lovely, civilized and very expensive subtropical outpost in the ocean.
Our first stop was St George, an enclosed bay, with about 20 other cruising boats at anchor from all over. There was a Dutch boat we last saw in the Marquesas in 2010.
Sailing club Opti fleet
one of many wrecks






St George is a small village, so there's not much to do there.
St Catherine's Fort
Bermuda's main population center is Hamilton, the capital farther along the string of islands So after a couple days recuperation from our passage, we took the bus to Hamilton to see what was there. While we were gone, Giffords' Totem arrived from St Martin and we had a quick visit. We hadn't seen them since New Years Day in Sydney, 2012!
Kathi & Behan
We both moved our boats to Hamilton. Jarana moored at the very expensive, but very convenient and hospitable Royal Bermuda YC.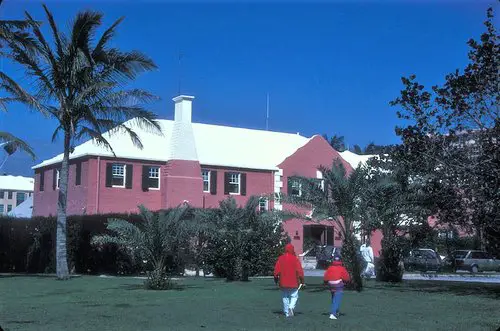 Paul Bieker of Seattle kindly gave all of us a tour of the Oracle Americas Cup campaign base.
Artemis and Oracle were out practicing daily, so we got a good look at them streaking around.
A few days later, we took the boat out and watched the fitted dinghy races. Bill loaded a bunch of pictures on Flickr. Click on the image below to go to the Flickr page.
After a very pleasant time in Bermuda, our wallets were running dry and the weather window opened up, so it was time to put on our scop patches and go to sea again.
Next stop: Flores Island, Azores approx 1800 n mi NE.